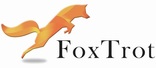 Who We Are
We are the leaders in
​back-office operations and advisor compensation.



For the past 23 years, FoxTrot has continued to provide great software to make the operations and commissions departments' lives easier. Our mission is to streamline every aspect of the commissions department: fom replacing Excel with one-click statement imports, to robust daily blotters, to payroll calculations and streaming broker statements.

We love small to mid-size broker-dealers because we speak your language.
​We pride ourselves on a warm partnership style. Our growth-oriented, forward-thinking software is scaled well to grow with you, without adding more employees.

Working closely with our clients, we have developed a "Yes!" approach to finding solutions. The result is a robust system developed to handle virtually every possible commission scenario while supplying a solid foundation of daily functions.



Site powered by Weebly. Managed by
PowWeb